Future Bulldog Night starts tonight at 5:30 pm and ends at 7 pm! Come out and see us Class of 2025!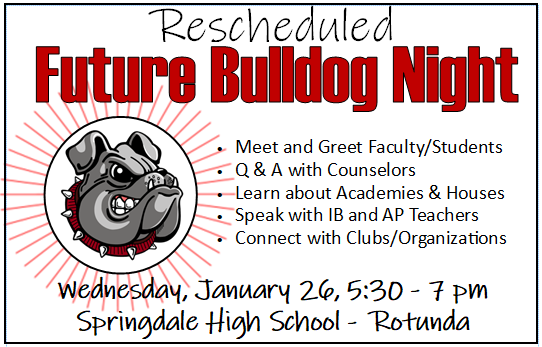 Today is the day! We look forward to meeting our future Bulldogs!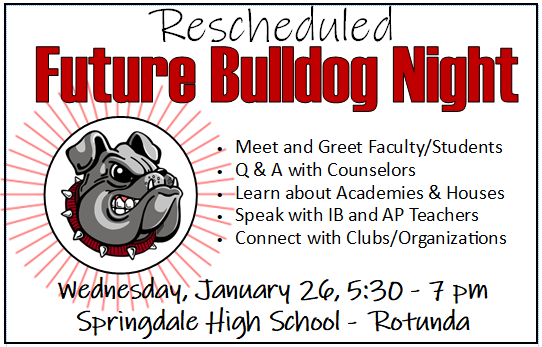 Future Bulldog Night is tomorrow! Come out and join us Class of 2025!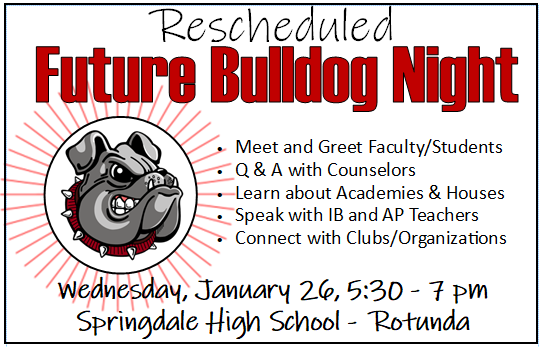 Incoming Sophomores come out to SHS on Wednesday and find out about Programs of Study, Academies, Electives, Clubs and more!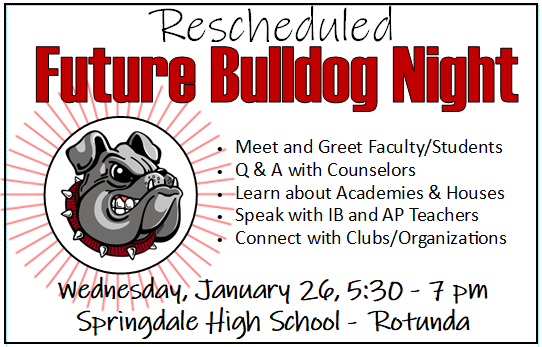 All-Region results are in! This year SHS had 61 students (including 5 alternates) make the Region VII All-Region Band(s)…Congrats!!!

Future Bulldog Class of 2025! Make sure to attend Future Bulldog Night on Wednesday!

We look forward to meeting our incoming sophomores and parents this Wednesday!

CHANGE IN DATE!!! Future Bulldog Night scheduled for tonight has been CANCELLED and RESCHEDULED for next Wednesday, Jan. 26.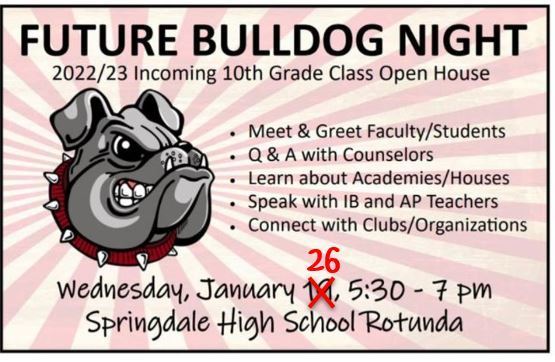 Attention ALL Springdale Seniors! Springdale Public Schools Education Foundation's Scholarship applications are now open!
https://www.smore.com/zpm8q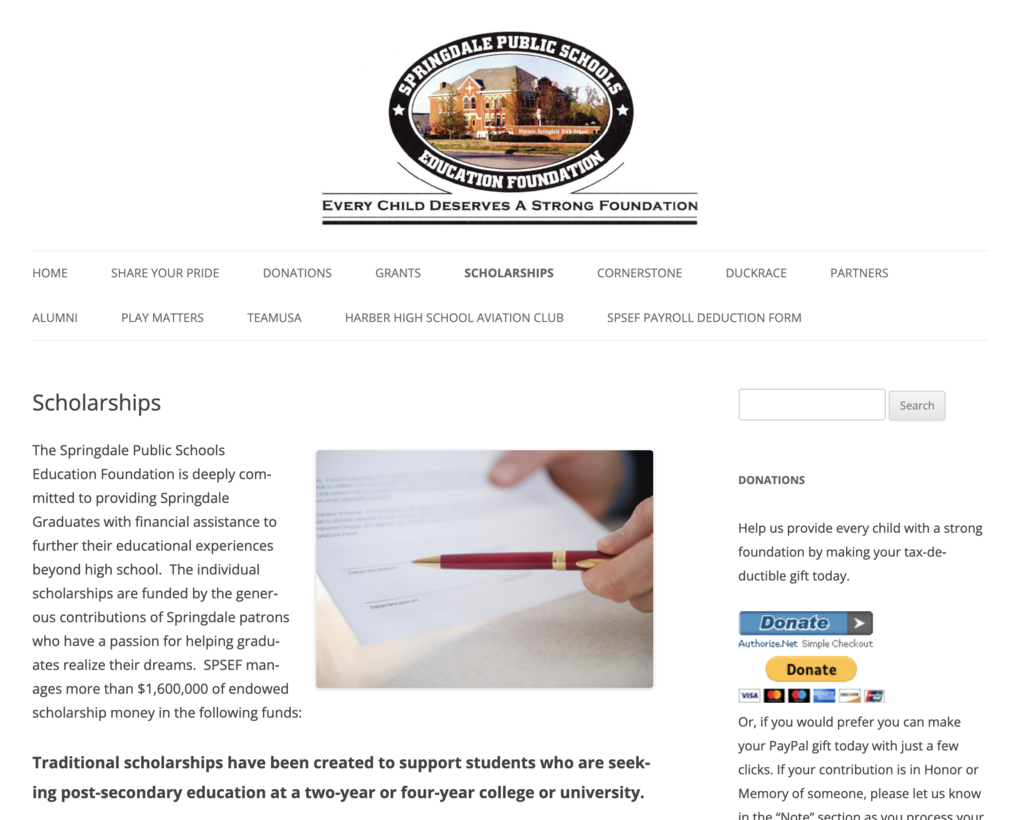 SHS is NOT closed on these two days. Buses and meals will be provided, and teachers will be present... - Assignments will be via Google classroom - Students will NOT be counted absent - We will not have ZOOM sessions - Extracurricular activities can still occur Thank you!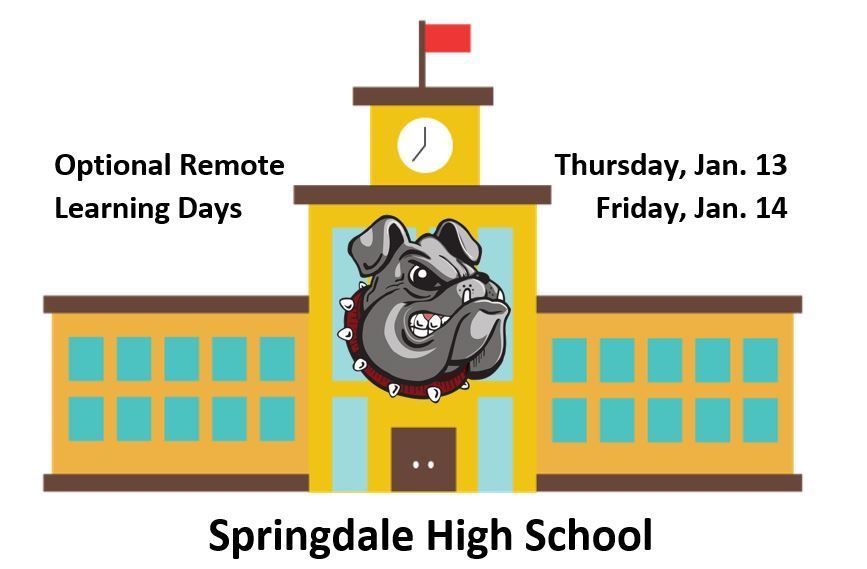 2021 Springdale District Spelling Bee Congratulations to all the spelling bee contestants this year! This year features a 43 round spelling bee, with an EPIC 25 round battle between Quintin and Michael.
https://youtu.be/8gxWaexHHRk

Merry Christmas from the Springdale High School faculty and staff...We hope you enjoy your break and we'll see you on Tuesday, Jan. 4, 2022!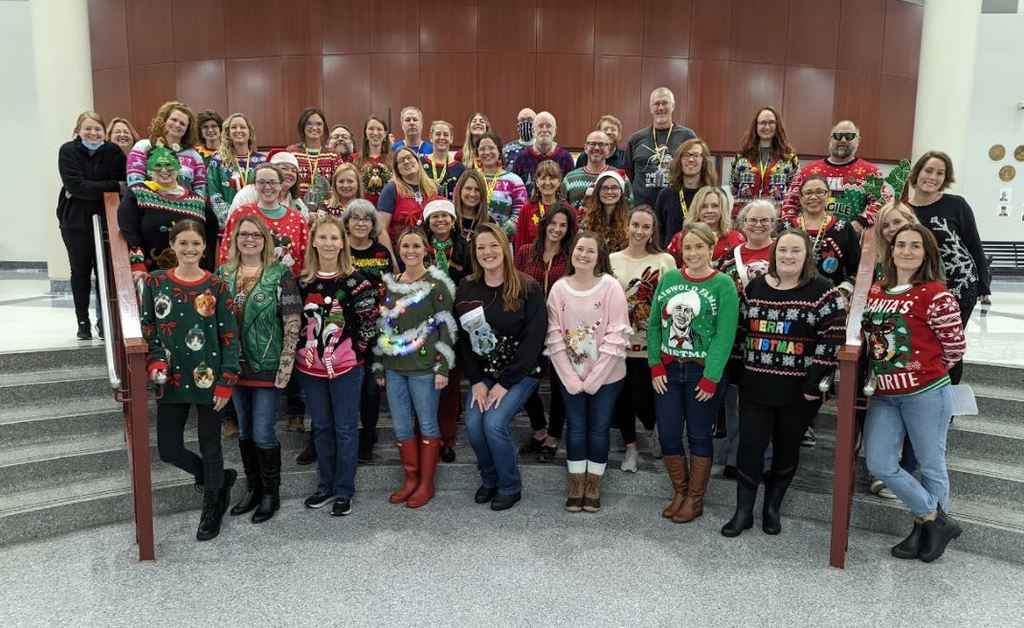 Just a REMINDER: Final Exams at SHS are this week Final exams are in the morning and we will have study sessions in the afternoon. Monday: Periods 1 and 4 Tuesday: Periods 2 and 5 Wednesday: Periods 3 and 6 Thursday: Periods 7 and 0 Friday: Makeup Day

Save the Date: Drive Through Food Giveaway at the Treehouse Pantry: 12-16-21 from 11:00am to 1:00pm

Reserve space in the yearbook for special photos and a personalized message for your senior. Deadline to reserve space is Dec. 31. Space can be purchased online. at yearbookforever.com or by emailing
sswearingen@sdale.org
.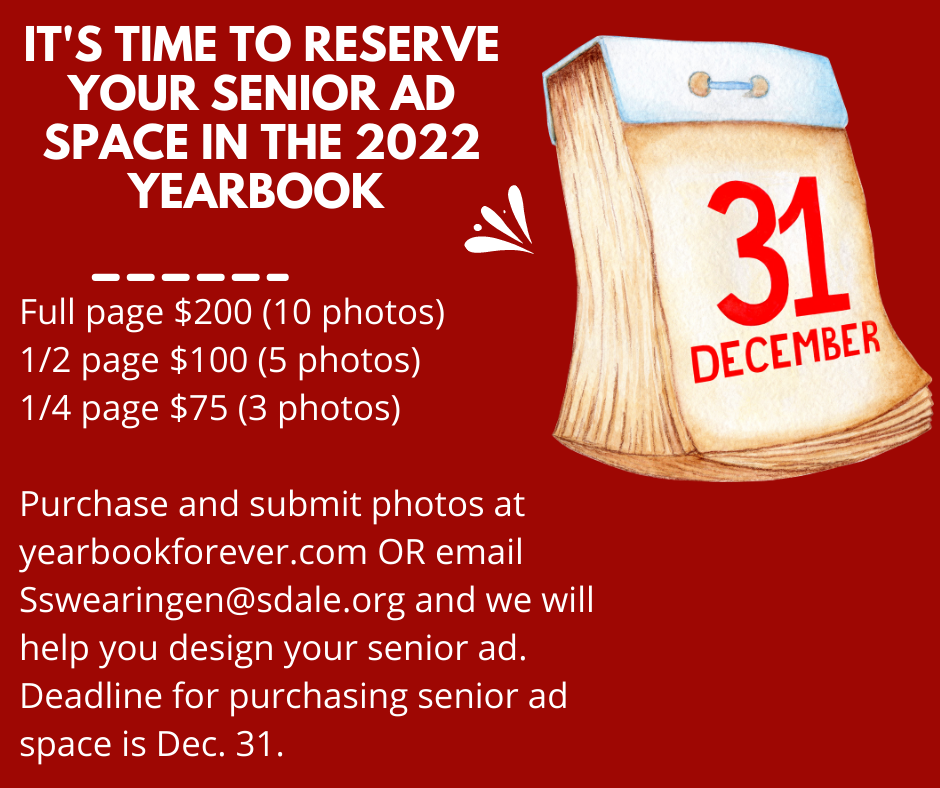 Make sure to purchase your 2020-21 Yearbook today!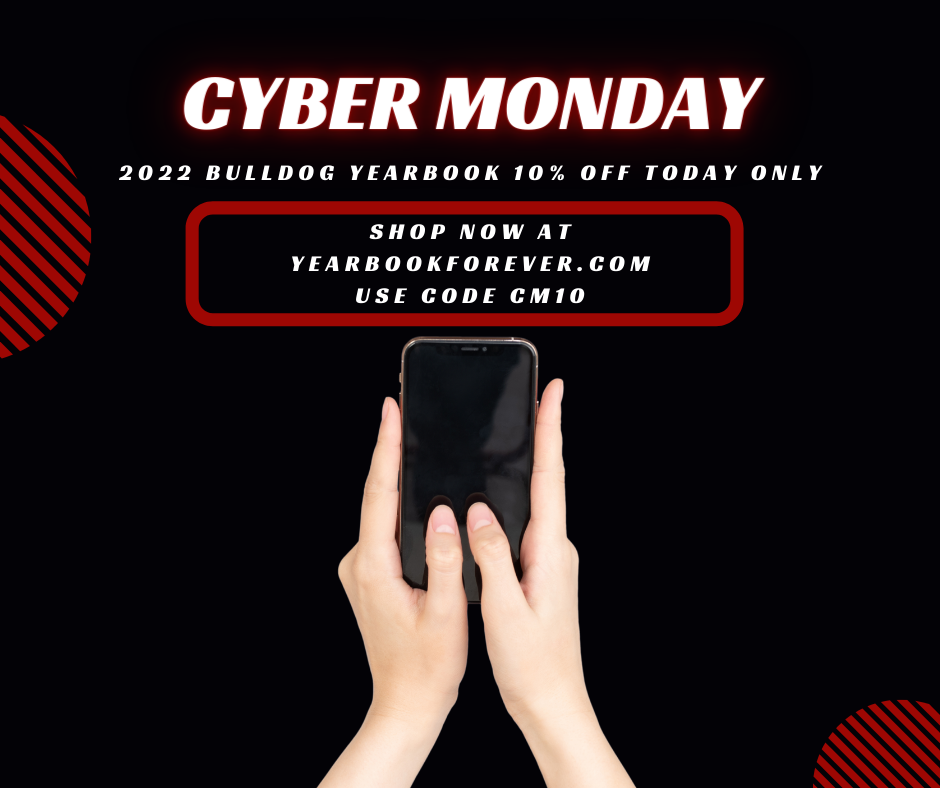 Make sure to pay a $1 to wear a hat on Friday!